Non-stiction cylinders offer precise position sensing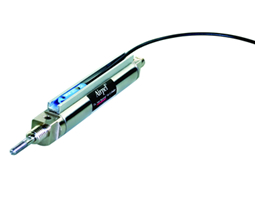 Airpot Corporation announces the addition of a position sensing option to its popular line of Airpel non-stiction air cylinder actuators. The company offers non-contact electronic switching sensors from Sick, Inc. using state-of-the-art GMR technology. These are the most precise and accurate magnetically activated cylinder sensors on the market. The addition of GMR sensing technology to the Airpel non-stiction cylinder line offers OEM designers an easy-to-install, secure, and reliable solution. For customers desiring electrical output of piston position, most Airpel models are offered with an optional switch-activating magnet on the piston, as well as one or more option aluminum tracks measuring 9.51mm wide and 6.83mm high, attached to the cylinder. The tracks are specially designed for easy, secure mounting of the Sick, Inc. position sensors which are offered separately. The sensors operate at 10-30 V DC and have repeatability of less than or equal to 0.2mm. Airpot stocks popular models of these extremely reliable GMR sensors with PNP or NPN output, along with matching accessory extension cables available in 2 and 5 meter lengths. OEM designers are assured safe and accurate feedback. A magnetic field has secondary maximum levels that can cause double switching behavior in Hall Effect and reed sensors. But GMR (Giant Magneto Resistive) technology is based on the measurement of the average strength of the magnetic field. This gives GMR sensors some important advantages over other types of sensors. GMR sensors greatly reduce the potential for troublesome double switching ensuring better accuracy. GMR sensors do not need to be adjusted to magnetic field polarity. With its compact profile, the GMR sensor chip is encased in a small, rugged plastic shell. The entire sensor can fit in a common soda straw less than 1.25 inches long. There is a small LED window in the shell to allow visible indication of the switching signal. Installation is easy, secure and user friendly. The Sick, Inc. GMR sensor is specially shaped to allow for easy installation in the Airpel T-slot aluminum track. The track comes permanently bonded along the entire length of the cylinder in the location desired when ordering sensor-ready Airpels.
Airpot Corporation manufactures instrument quality, precision Air Dashpots, Snubbers, Pneumatic Actuators, Airpel Anti-Stiction Air Cylinders and -AB Air Bearing Actuators. Airpot welcomes custom requirements and will work with the customer to adapt products to suit their individual application needs. Value added subassembly services are also a specialty.
Airpot is a trusted supplier to many of the world's most prestigious original equipment manufacturers. Visit Airpot Sensors for detailed specifications. Call or write our technical staff for application assistance and ordering information. service@airpot.com 203-846-2021.
Similar blogs
Airpot introduces the first three in a series of online technical product videos which illustrate pneumatic control of unwanted [...]
Airpot Corp. announces "Accurate Force Pneumatics" for control of force, motion and displacement with unparalleled[…]
High performance CNC micro machining centers used to fabricate small high precision parts from plastics, metals, glass, and ceramics […]