Description
Bore: .366″ (9.3 mm)
Piston Area: .105 in² (67.88 mm²)
Strokes: 0.5, 1, 1.5, 2.0, 3.0, 4.0
Pressure Range
Full vacuum-100 psi. (0.69 MPa)
Force Factor


Piston
Area
x Pressure
=Output
Force
Max
Force
in2
psi
lbs
10.5
@ 100 psi
mm2
MPa
N
46.84
@ 0.69 MPa

Minimum Pressure Differential
Required for Actuation
.05 psi. (345 Pa)
Maximum Leak Rate Under Pressure
.36 SL/min @50 psi(0.34 MPa)
1.17 SL/min @100 psi(0.69 MPa)
Friction
Coefficient: .2 Force without side load: typically .5% –
1.5% of load
Operating Temperature Range
-55°C to +150°C
If operating at temperatures above
+70°C, please advise factory.
Mounting Hole
Round: .375″ min or 10 mm
Suggested Mounting Bracket Thickness
.060″-.125″ (1.52-3.18 mm)
Mounting Nut Torque
Head: 4-8 in-lb (0.45-0.9 Nm) Rod End: 2-5 in-lb (0.23-0.56 Nm) Fitting: 12 in-lb max
Stroke
Full stroke is obtained with customer
held mounting tolerance of ± .015″
(0.38 mm).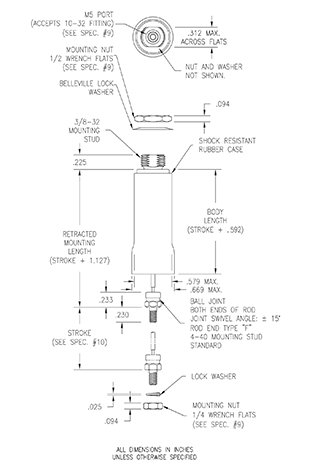 For more information on our pneumatic actuation products, CONTACT US TODAY!
Our experienced staff will provide you with the solution your project requires.